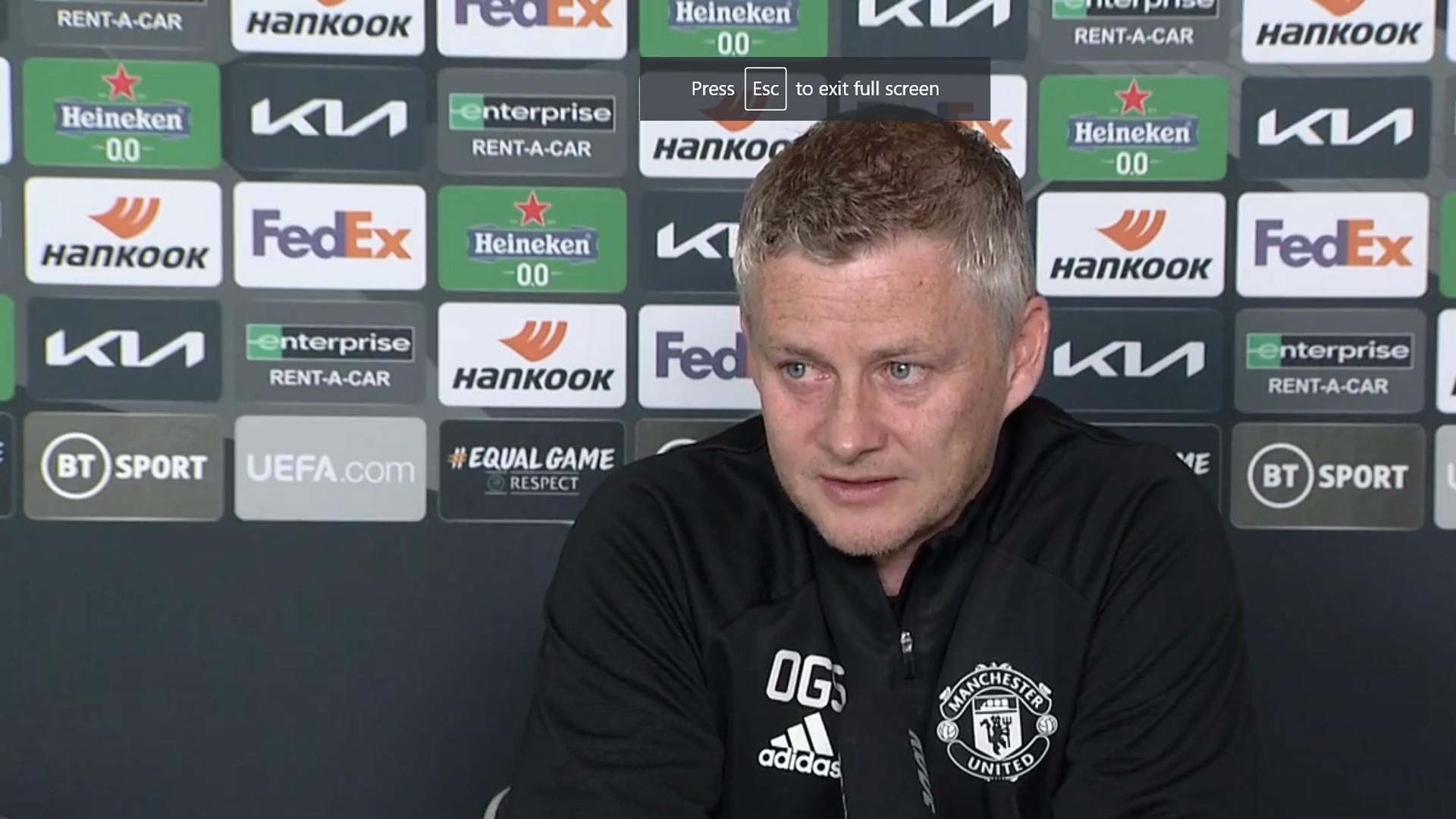 OLE GUNNAR SOLSKJAER
Can I just ask for your reaction, Ole, to Roma fans putting posters of you around the training ground. Apparently a comment from you, post-Granada, that you didn't know them and hadn't seen them play. Their suggestion is they were affected by that?
"Of course. That was straight after the game and with all the games we've had, I was just relieved that we'd gone through. Of course I've watched them but I hadn't analysed them and I hadn't seen them in depth to give them enough respect probably. It's a fantastic club with a great history. I've actually got two prized possessions back home – a Totti shirt and a De Rossi shirt that I've swapped with them, they're actually signed. I know about the history, I know about the quality. Of course with Chris being there [on loan] last season, we followed them. Then they signed Chris so we haven't watched them as much. But of course we have analysed them down to the ground since we drew them. We are ready for them. And my [comment] was not meant as any disrespect and I think everyone knows that. I've got loads of respect for them."
You've talked a lot this season about the progress the team has made and that's evident. But does there come a point now, where you're close to a final and you've lost in semi-finals, where you have to seize the opportunity and tell the players now is the time effectively?
"When you come to the business end of the season, the main thing is arriving there. First of all arriving there and being there, and being in and around the important games in good form. Having confidence and belief like we do now, like Luke just said. But of course to have that little bit of luck but also that quality that's needed. We have done remarkably well to get to five semis in just a little bit more than a season but now of course, we'd like to go through all the way. That would mean so much to the end of our season if we have a final to look forward to."
I know Luke has confirmed himself as a starter (!) but how is the rest of the squad looking? With Marcus, it seems he hasn't been able to train ahead of the game, so what's the situation with him?
"I was going to ask Luke if he'd picked the team already! But with Marcus, we've managed him and we've had to manage him for quite a while actually, with of course, last year, his back. Then he had his shoulder [injury] which he has recovered really well from and I feel he's gone through the worst of this foot [problem] as well. He almost played the full game against Leeds and he's available for selection again on Thursday, tomorrow, so I think he's happy with the progress that he's made. And we didn't lose anyone after the Leeds game which was a great preparation for us because it was a high intensity, very difficult game."
Let'