The Bavarians were expected to stroll through the last eight but, amidst their worst run this season, the defending champions won't have it all their own way
COMMENT
By Peter Staunton
Bayern Munich have not been on a run this bad in over three years. By their recent exceptional standards, their current form is diabolical. That should have the alarm bells ringing for coach Pep Guardiola and his players ahead of Manchester United's visit in the Champions League quarter-final second leg on Wednesday night.
A draw to Hoffenheim, another away to United and a loss at regional upstarts Augsburg at the weekend mean Bayern have not actually won a game since claiming the Bundesliga title outright against Hertha Berlin on March 25. Prior to that match, the Champions League last 16 first-leg draw with Arsenal was the only time they had failed to win in 2014.
That relentless superiority has been stopped dead in its tracks since clinching the Bundesliga shield. Guardiola reckons it's no problem. However, winning matches puts teams into a rhythm in which they expect nothing but success. Not winning, inversely, has the opposite effect. This Bayern squad's strengths were forged in the bitter heartache of defeats, don't forget. It is not unreasonable to assume that the doubts are creeping back in for a side once regarded as psychologically brittle.
Manuel Neuer before the first leg compared the situation to the Champions League final of 2012. Despite Bayern's status as overwhelming favourites – as they are for this tie against United – they contrived to lose to Chelsea in their own backyard. That was the game on Neuer's mind – not the emboldening sequence of 53 unbeaten league matches. "We just have to think back to two years ago," Neuer told reporters. "Chelsea who finished sixth and won the Champions League, unfortunately for us."
In the early part of 2011 Bayern suffered three successive losses to Borussia Dortmund, Schalke and Hannover. Although they recovered to defeat Hamburg 6-0 a week later, they then went out of the Champions League after an inexplicable lapse at home against Inter. There are similar warning signs about this recent Bayern slump.
The records have been tumbling all season long for Pep Guardiola's side but the weekend defeat to Markus Weinzierl's side added more. These were the unwanted kinds though. It was a first Bundesliga loss in 54 matches. They were held scoreless in a Bundesliga game for the first time in 64 games. Their efficiency in front of goal was lacking against United too despite Bastian Schweinsteiger's brilliant equaliser. It is startling, also, to think that Bayern have kept only one clean sheet in their last nine matches; they allowed only one goal in the previous 10.
Guardiola was disdainful of Augsburg's landmark win. He said it was not important and reiterated that the right thing to do was to rest players ahead of the game against United. "If this had been important, then Philipp (Lahm), Franck (Ribery) and Arjen (Robben) would all have been here," he told reporters after the game. "The Bundesliga is over for us. Our target is the Champions League."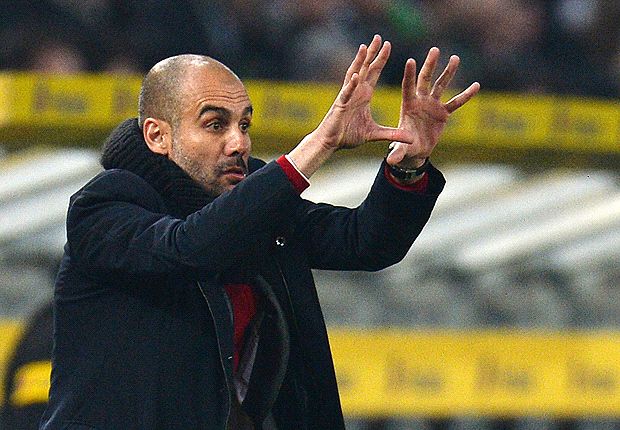 Claws out | Guardiola's was on the defensive when asked about Bayern's sudden dip in form
Guardiola also pointed out that Bayern played Augsburg with a shadow squad; three players were making their first-team debuts – but he doesn't exactly have a full complement from which to select against United either. The needless red card for Schweinsteiger late in the day against United meant that in that moment he arguably lost all three of his pre-season "first choice" central midfielders.
Thiago Alcantara is injured. Javi Martinez is suspended. This means that Philipp Lahm and Toni Kroos will be playing in the middle with Thomas Muller or Mario Gotze fielded just ahead of them – close to Mario Mandzukic. The injury to Xherdan Shaqiri has robbed Pep of the option of fielding Robben in behind Muller as he did in the recent 6-1 win over Wolfsburg. It is the type of formation that Bayern have played a few times in the Bundesliga where opponents simply give up before they start but United will be more diligent in their defending. They will fancy their chances of holding the hosts at arm's length in Munich.
Buoyed by an away Premier League win against Newcastle, David Moyes' men come to the Allianz Arena on an encouraging run of form. Despite the loss of Robin van Persie they are full of goals with nine scored in their last three games. Juan Mata, cup-tied, will be missed but David Moyes nonetheless has decent options now for those three places in behind Wayne Rooney on Wednesday night. Adnan Januzaj and Shinji Kagawa are in good form and Javier Hernandez is an effective substitute. At the moment, United are capable of scoring all sorts of goals. They can nod one in from a set-piece – a classic Bayern vulnerability is not defending those properly – and they are creating presentable chances in open play. They will come to Bayern expecting to score.
There is a sense that momentum in this tie has swung towards United. If they can limit Bayern to the kind of sterile ball retention like at Old Trafford, they will go through. They have the confidence. Lingering doubts over their own suitability for this stage of the Champions League are receding. The same, presently, cannot be said of Bayern.