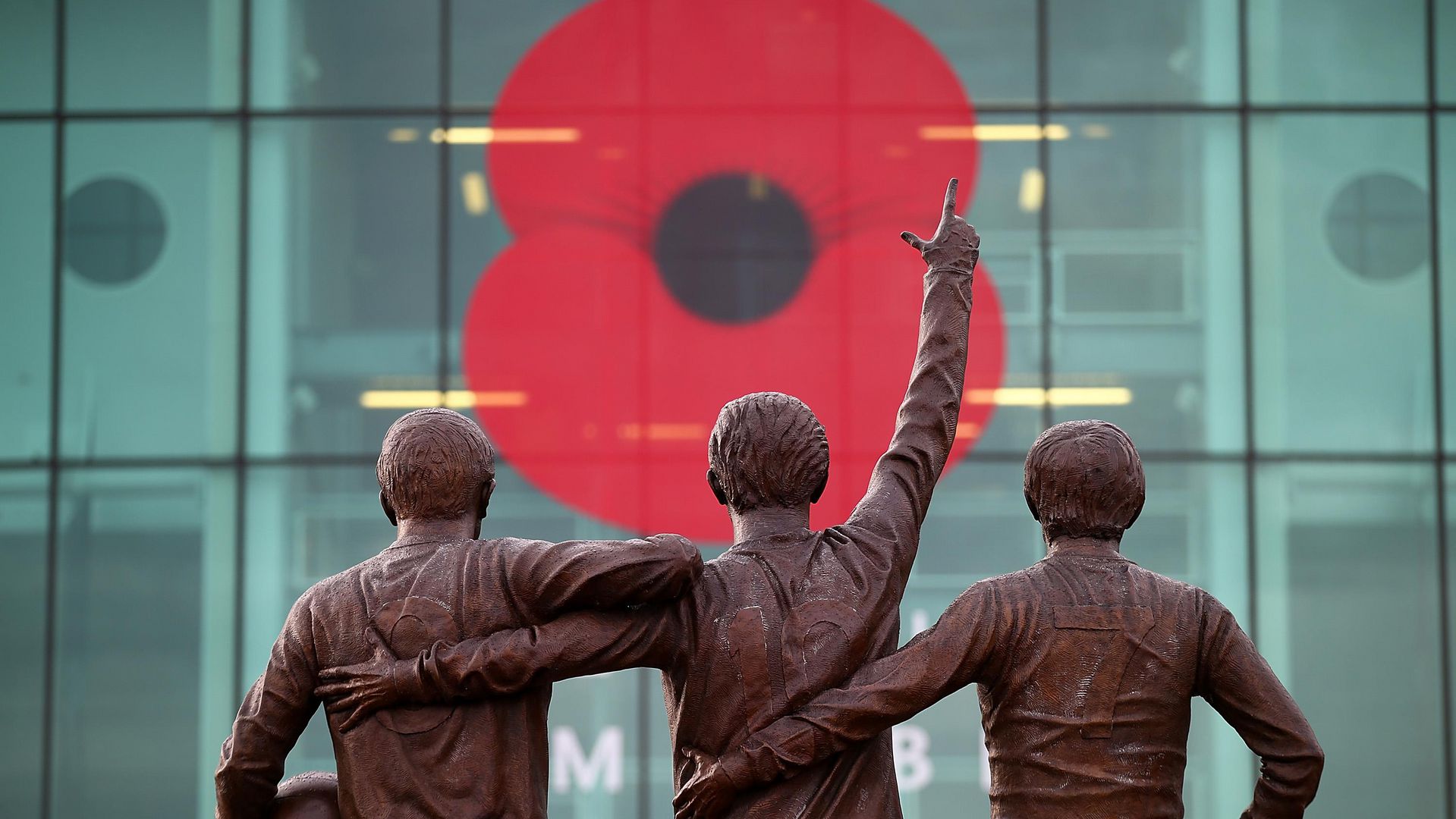 Here, with the help of United's museum curator Mark Wylie, we pay tribute to the men who played for our football club and then perished in war…
BOER WAR
Driver 12690 Gilbert Godsmark | Army Service Corps (att. 75th Battery Royal Field Artillery) | Newton Heath 1900
Although he wasn't a serving soldier when he joined Newton Heath, Godsmark was called up just months later as a former soldier at a time of national emergency. Regarded as quite a prospect on the football pitch, having been spotted by ex-Heathens forward Bob Donaldson while playing in Kent, the 25-year-old succumbed to disease while serving in Pretoria.
WORLD WAR I 
Sergeant 11677 Arthur Beadsworth | 7th (Service) Battalion Leicestershire Regiment | Manchester United 1902-03
One of many players signed in the first season after the club's name was changed to Manchester United, the forward from Leicester made nine league appearances for the Reds – scoring the winner against Arsenal on his debut. Having previously served in the militia, the territorial army of its day, he joined the Leicestershire regiment but died of wounds in 1917 near Boulogne in France.
Private 34893 Thomas Clifford | 6th/7th (Service) Battalion Royal Scots Fusiliers | Newton Heath 1896-97
The Scotsman, from Ayr, played for a number of teams either side of the border and represented the Heathens at reserve level. Mark Wylie, curator for Manchester United's museum, informed us:
"Thomas was actually quite old when he joined up so it's possible he lied about his age. Most of his service was in the UK and he was only abroad for a matter of weeks when he was killed on the Somme."
His name is one of the 72,000 listed on the Memorial to the Missing in Thiepval.
Private 2289 Bernard Donaghey | 1st Battalion Royal Inniskilling Fusiliers | Manchester United 1905-06
An Ireland international who played for the Irish League, Hibernian in Scotland and Burnley but made only three appearances for the Reds. A Catholic serving in the British army, he was a reservist before the war and was in action soon after the outbreak in 1914. He served in Gallipoli and then in France, and was killed on the first day of the Somme. Like Clifford, he is also named on the Thiepval Memorial.
Lance Corporal 18619 George Elmore | 15th Battalion (1st Edinburgh) Royal Scots | Manchester United 1902
Given a trial match after joining from Burton United in December 1902, Elmore was released later that same month without making a first-team appearance. The forward represented a number of other clubs in our region, such as Altrincham (then called Broadheath), Blackpool, Glossop, Northwich Victoria and Witton Albion, before moving north of the border. In Scotland, he had stints with the likes of Partick Thistle, St Mirren and St Bernard's, the latter being based in Edinburgh where he signed up for military service with the Royal Scots. Missing, presumed killed, in action on 1 July 1916, he is commemorated on war memorials at Thiepval, Northwich in Cheshire and Edinburgh Castle.
Private 2663 Alfred Griffiths | 1st Battalion Manchester Regiment | Newton Heath 1901-02
Alfred was a goalkeeper and research suggests he was registered as a Newton Heath player on 29 November 1899. He served in the Anglo-Boer War during 1901 and was back in Manchester a year later, when he had the chance to play for the Reserves against Burnley the Lancashire Combination. A clean sheet was kept and the Athletic News noted he had been
"severely tested"
during the match. Griffiths' death was assumed to have happened on 8 March 1916.
Let'