The midfielders were substituted in Wednesday's Europa League win over Saint-Etienne and Mourinho believes they will be unavailable for Sunday's game
Jose Mourinho suspects Henrikh Mkhitaryan and Michael Carrick will miss Manchester United's EFL Cup final against Southampton after they were taken off in Wednesday's Europa League win over Saint-Etienne.
Mkhitaryan underlines importance to Man Utd
Mkhitaryan made the difference in the second leg in France, diverting a Juan Mata ball into the net 15 minutes in. But his night was cut short soon after when he pulled up with an apparent hamstring problem, leading to him being replaced by Marcus Rashford.
Carrick was then substituted shortly after the hour mark, with Bastian Schweinsteiger filling in.
The injuries are a big concern for Mourinho, whose side are still competing in four competitions.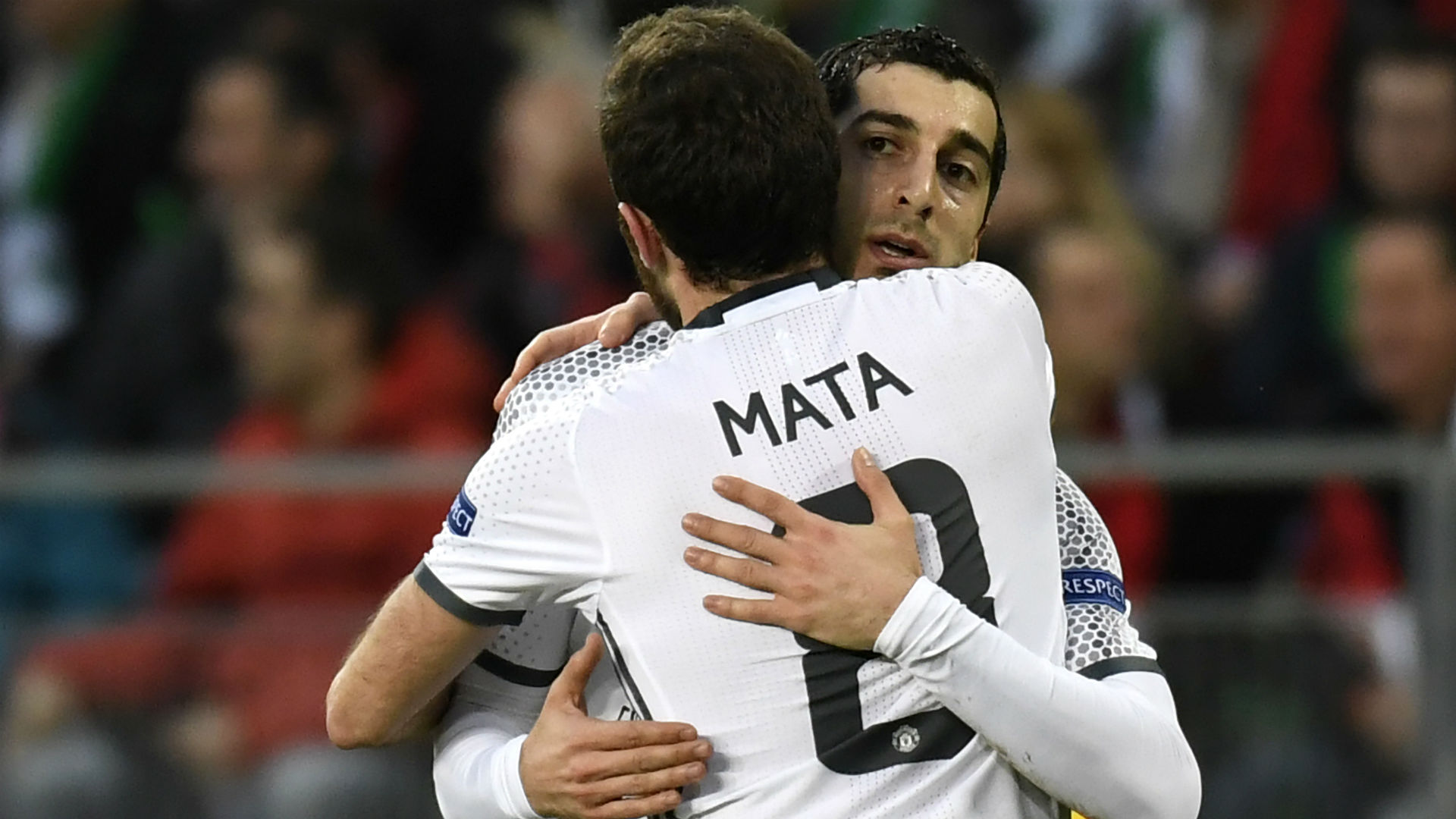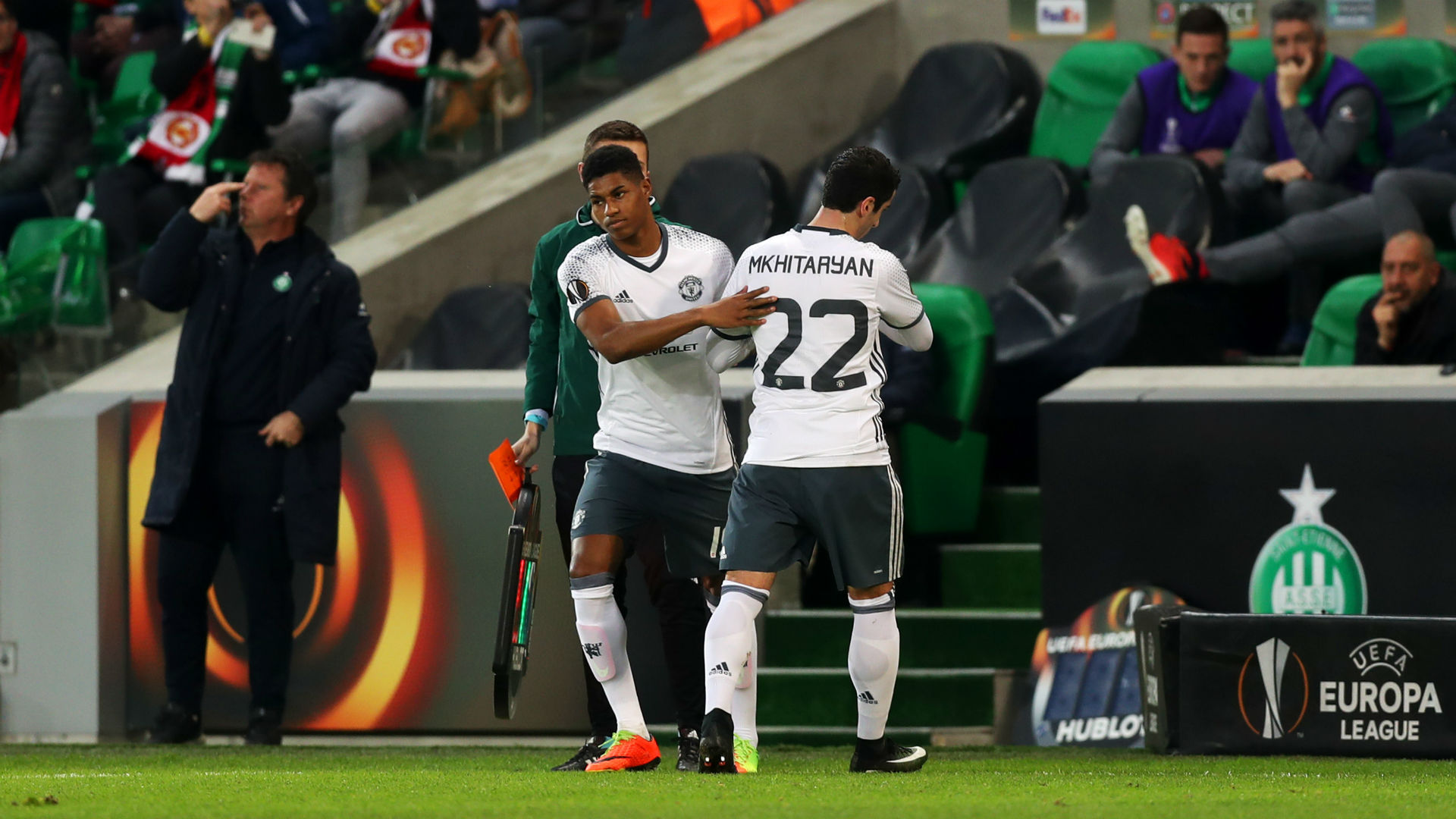 "Honestly I don't think he is fit. I think him and Michael they are both out. This is based on my experience, not based on my medical knowledge.
"A calf, a hamstring, even if it is minor, minor, some fibres damaged, I think they are out."
Mourinho put the muscle strains down to his side's demanding fixture list, instead of questioning the pitch at the Stade Geoffroy-Guichard.
"The pitch was okay. I think they did their best, it was playable and it was not dangerous.
"The injuries were a consequence of playing a lot of matches. The stadium was good, the stadium was beautiful, the pitch was good, the crowd was fantastic.
"It was a pleasure to play here."
United's schedule will become more intense as they will have to play Chelsea in the FA Cup quarter-final on the Monday before they play their second leg of the next round.
Asked if the lack of recovery time could be a cause for concern, the Portuguese coach said: "Of course, and I feel really surprised that the decision is made before our draw for the next round in Europe, because at the moment who knows who we will play against? Nobody knows where the first match will be and where the second match will be.
"Imagine we play Chelsea on the Monday and then we have to go to a second leg in the Europa League in Russia, in Turkey, in Greece. So I think once more their interests go in front of the clubs and the English football interests. Nobody cares about it.
Chinese club confirms Rooney approach
"This is what we have. I cannot play against Chelsea with a second team. I cannot play against Chelsea with under-21s like Manchester City did last year I think. We are Manchester United, I cannot do that. I cannot do that as Manchester United manager, I cannot do that to the FA Cup because the FA Cup is not guilty of these decisions. The FA Cup is beautiful, the competition is historical.
"I have to treat Manchester United supporters and the FA Cup in the right way. I cannot go there with the under-21s. Probably they deserve it but I don't do that.
"So what is going to happen is an accumulation of matches, people playing a lot of matches. I have to make some rotation, but some of the boys will have to play in all of these consecutive matches and if situations like the Mkhitaryan one or the Carrick one happen, they happen."