COMMENT: The Netherlands boss has made the most of his squad and got the big decisions right throughout his side's run to the World Cup semi-finals

By Greg Stobart in Brazil
If anyone at Manchester United harboured concerns that Louis van Gaal's approach to management might have become dated and irrelevant, the legendary coach has answered those questions emphatically during the World Cup.
The Netherlands arrived in Brazil with everyone telling them that they would be lucky to reach the knockout stages from a group that included world champions Spain and a highly-rated Chile side.
But they have outlasted their Group B rivals and are now one game away from the World Cup final following their victory on penalties over Costa Rica in Salvador on Saturday.
Next, Lionel Messi and Argentina await for the Dutch – and you can be sure Van Gaal will have a plan to lead Holland to the final of the tournament for a second time in a succession.
He always does and he showed it again with the masterstroke in bringing on Tim Krul as a substitute in the dying moments of extra-time against Costa Rica. The Newcastle goalkeeper was Holland's hero as he saved two penalties to ensure his team's place in the final four.
It was a bold and brave move by Van Gaal but another big decision that the 62-year-old got spot on in Brazil and a glimpse into the level of his preparation.
Van Gaal has been the best coach in the tournament and made a mockery of suggestions he might have taken his eye off the ball in the build-up after agreeing to take over at Old Trafford.
While Jorge Sampaoli's Chile played some lovely football and Jorge Luis Pinto ensured a romantic story for Costa Rica, Van Gaal has outshone them to prove why he is considered a coaching legend.
Van Gaal has taken a squad lacking depth and written off before the tournament to the last four, scoring 12 goals in the process – the most of any team – and conceding just three times.
Van Gaal has admitted himself that, 40 years after the Dutch gave us total football, he has had to compromise some of his aesthetic ideals in favour of a more pragmatic approach to winning football matches.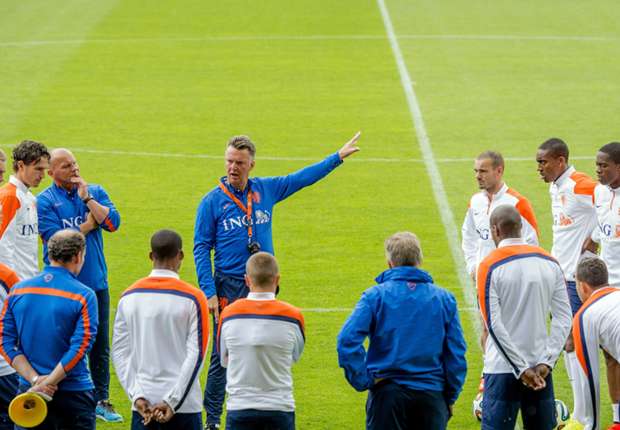 This is an older, wiser Van Gaal than the man usually cast as stubborn, argumentative and arrogant.
"We're not a great team, but a team which is difficult to beat," was Van Gaal's assessment of his side in the build-up to the Costa Rica match.
The shift in thinking probably came on the back of the knee injury sustained to key midfielder Kevin Strootman in March that ruled him out of the World Cup. And while European rivals such as Spain, Italy and England were sent home early, Van Gaal has found a way to get the job done.
His team have been well-drilled, organised and built on a solid foundation. Whether in a 4-3-3 or 5-3-2, the two formations Holland have used in the tournament, every player knows their role.
He has managed to get the best out of average players like Ron Vlaar to create the base to release his stellar names in attack, where Robin van Persie, Arjen Robben and Wesley Sneijder have scored seven goals between them.
When he has needed to make big decisions, Van Gaal has made the right call.
He did it when he brought on Krul for Jasper Cillessen against Costa Rica.
He did it in the last 16 against Mexico when he replaced his captain and star striker Van Persie with Klaas-Jan Huntelaar, who went on to strike the winner from the penalty spot.
Elsewhere, Dirk Kuyt has been deployed as a full-back for the first time in his career and Memphis Depay has scored two goals as a substitute.
Van Gaal has proved that he has an unmatched foresight when standing on the touchline.
That Mexico victory, when they came back from 1-0 down in the 88th minute, highlighted the winning mentality that Van Gaal has drilled into the side as a coach who has won seven league titles in three countries as well as a Champions League crown.
Holland have also found themselves a goal down on three occasions, but come back to win each time. Their progress past Costa Rica was down to the country's second shootout victory in their history.Past Netherlands teams have been known for their dressing room discord – and Van Gaal is no stranger to fall-outs himself – but he has taken a side embarrassed at Euro 2012 to the World Cup semis.
He has also done it on the back of an unbeaten qualifying campaign that saw them book a World Cup place before any other European team.
The atmosphere around the Holland training base in Gavea, Rio de Janeiro, has been relaxed and friendly throughout. Fans have been allowed in to watch sessions while players have enjoyed kickabouts with their children.
Van Gaal has appeared anything but the divisive figure often portrayed, with every player speaking glowingly about a coach whose relationship with the squad was summed up by his touchline celebrations with Van Persie after the striker's second goal in the 5-1 thrashing of Spain.
"Yes, we have a very strong bond. It has been good since day one," Van Persie said last week. "He has that [a good relationship] with almost all of his players. Everyone respects him, everyone believes in him."
And on the basis of the World Cup, Manchester United fans should also believe that the Dutchman will bring an instant return to better days.