Goal examines the sides vying for Europe's biggest prize ahead of some mouthwatering quarter-final ties
BAYERN MUNICH


PATH TO THE QUARTERS
Last opponents: Arsenal
Next opponents: Man Utd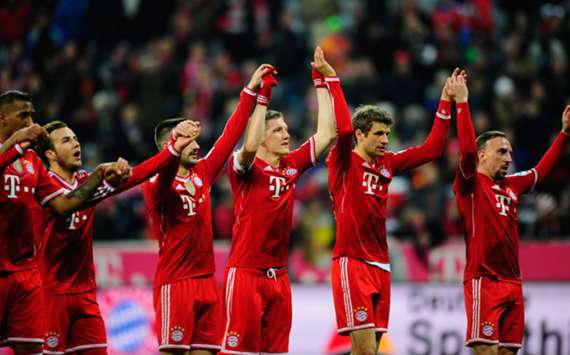 There has seldom been a more dominant football team in recent years than this current Bayern Munich outfit. Pep Guardiola has seemingly built upon perfection since replacing the all-conquering Jupp Heynckes last summer, leaving many suggesting a back-to-back Champions League triumph is something of an inevitability.

They remain a united machine of a team, with no stand-out stars taking the attention away from what is a model outfit. If anything, they have become only more impressive as a squad, with Guardiola regularly rotating his panel and Bavarians' fortunes improving as a result. They are now 50 games unbeaten in the Bundesliga and on course for another magnificent treble.

Bayern were the one team nobody wanted in Friday's draw and their pairing with an under-achieving Manchester United side means that their status as favourites has only strengthened.
REAL MADRID


PATH TO THE QUARTERS
Last opponents: Schalke
Next opponents: Dortmund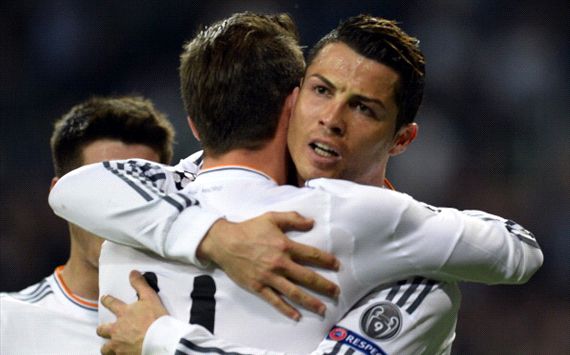 Real Madrid have been chasing La Decima for 12 years now, and while they have reached the semi-finals on three occasions since their last win in 2002, they have rarely looked as destructive as they have at times this season.

With the irrepressible Cristian Ronaldo leading the way and Gareth Bale and Karim Benzema helping to sweep aside most opponents, Carlo Ancelotti's Blancos appear as good a bet as anyone to stop Bayern making Champions League history. Currently boasting leadership of a fiercely-competitive La Liga and with a 9-2 aggregate win over Schalke behind them, their current form makes them a truly uncompromising opponent.

The business end will present them with tougher fixtures than those they have negotiated so far in the Champions League, though, and the prospect of facing a Borussia Dortmund side they fell to last season will really test their resolve. They appear to be a different animal this term, though.
BARCELONA


PATH TO THE QUARTERS
Last opponents: Man City
Next opponents: Atletico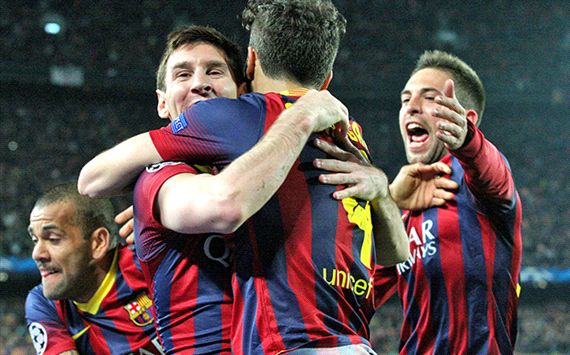 Victor Valdes and Carles Puyol may have given notice on their Barcelona careers, but there could yet be one last hurrah for the current Catalan line-up before the Blaugrana start to build for the future.

Last season's 7-0 semi-final humiliation at the hands of Bayern Munich really stuck in the craw of a club so used to success in the last half-decade, and while few consider them to be a match for the Bavarian powerhouse 12 months on, they could yet have a great say in the Champions League's destination. With Lionel Messi getting back into form and the presence of star talents such as Andres Iniesta, Neymar and Xavi, it would be foolish to write Barca off completely.

The quarter-final draw has pitted them up against an Atletico Madrid side they have failed to beat in three meetings this term, but they have also yet to lose to Diego Simeone's men, and a repeat of the two-legged win in the Supercopa de Espana would suit them just fine.
PARIS SAINT GERMAIN


PATH TO THE QUARTERS
Last opponents: Leverkusen
Next opponents: Chelsea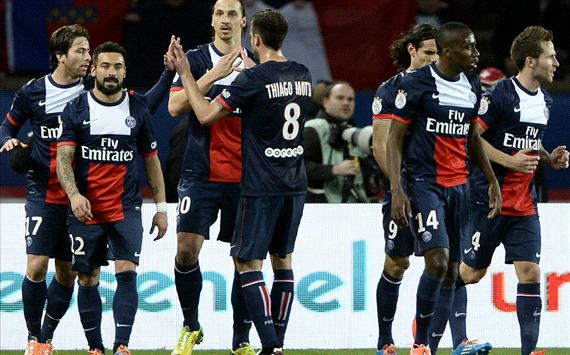 Zlatan Ibrahimovic might well have taken most of the headlines during Paris Saint-Germain's superb run to a second straight Champions League quarter-final appearance, but the supporting cast has enough quality about it to make Laurent Blanc's side a decent outside chance for the trophy.

The Swede's total of 40 goals this season includes 10 in just seven Champions League fixtures, and a continuation of that form will surely see the Parisiens through to the last four and beyond. Throw in the addition this term of Edinson Cavani, the midfield power and panache of Blaise Matuidi, Thiago Motta, Yohan Cabaye and Marco Verratti and the presence behind them of arguably the world's best defender in Thiago Silva, and there's every reason to believe the France giants can cause a stir.

The clash with Chelsea will without doubt be their toughest assignment to date, with Jose Mourinho likely to have the tactical edge. The question thereafter falls on the form of Ibrahimovic, but this year could well be his time.
CHELSEA


PATH TO THE QUARTERS
Last opponents: Galatasaray
Next opponents: PSG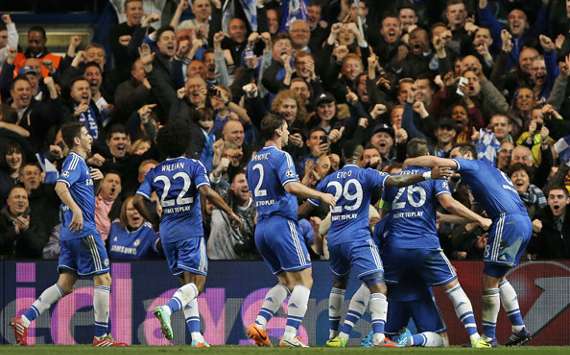 The Champions League and Chelsea have had a real love-hate relationship of late, but the 2012 winners showed in their last-16 win over Galatasaray that they have the necessary tools and tactics to go deep once more this time around.

Jose Mourinho might have fallen short of a final appearance in his first stint as Blues manager, but he seems to have come back more determined than ever before to bring the famous old trophy back to Stamford Bridge following the success under Roberto Di Matteo two years ago.

With Samuel Eto'o belying his veteran status and a dynamic midfield contingent playing behind him, Chelsea's danger to the more fancied outfits should not be underestimated.

If anyone can find an answer to Zlatan Ibrahimovic's threat, it surely is his former coach Mourinho, and the clash with PSG will certainly be the toughest test of the Special One's second reign at Stamford Bridge. Chelsea fans will fancy their chances of edging through, though, and thereafter it is anybody's guess what the Londoners can achieve.
ATLETICO MADRID


PATH TO THE QUARTERS
Last opponents: Milan
Next opponents: Barcelona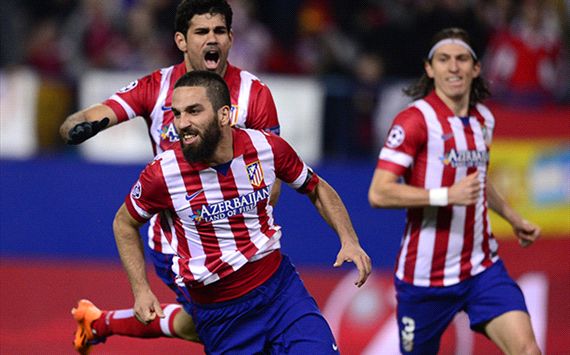 When the draw for the round of 16 was made in December, many AC Milan fans breathed a sigh of relief when they were paired with Atletico Madrid, but the 5-1 aggregate win for the Rojiblancos was further proof of just how much they have to offer on the continent.

The form of Diego Costa, Arda Turan et al in La Liga has helped to end the long-reigning duopoly of Real Madrid and Barcelona, and the transferral of that form into Europe could yet see them cause a few more upsets this season. Diego Simeone's side may continue to be looked down upon by some as outsiders, but that may well see more giants fall by the wayside.

They will be pleased to have drawn a familiar foe in Barcelona, given their lack of European nous compared to some of the top continental clubs, and will be hoping their previous scrapes with the Catalans will prove to be a good starting point from which to build in the quarter-finals.
BORUSSIA DORTMUND


PATH TO THE QUARTERS
Last opponents: Zenit
Next opponents: Real Madrid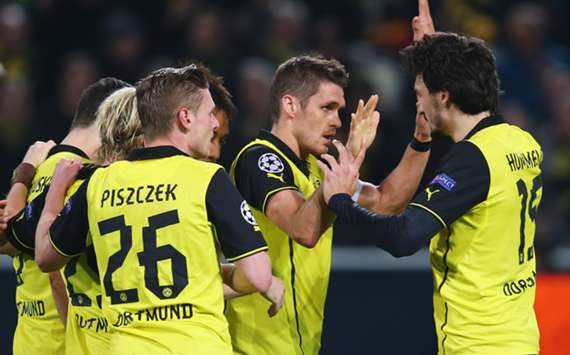 Dortmund's ascension to the top of the European game last May resulted in many observers suggesting the continent needed to learn from the German way. And while they have done nothing to trouble Bayern Munich in the Bundesliga this term, BVB's run to the last eight in the Champions League suggests that they remain a real threat abroad.

Having graduated from perhaps the toughest group in the competition's history, Jurgen Klopp and his men find themselves approaching the quarter-finals with nothing to lose once more after being written off by detractors. First, it was claimed they wouldn't get over the loss of Mario Gotze, then many believed they'd be squeezed out by Napoli and Arsenal.

Now, there are many suggesting the loss of Robert Lewandowski for the first leg of their quarter-final against Real Madrid will signal the end of their run, but if his team-mates can gain a respectable result in the first leg, then how better to repay them than replicate his match-winning performance of last year's semi-final?
MANCHESTER UNITED


PATH TO THE QUARTERS
Last opponents: Olympiakos
Next opponents: Bayern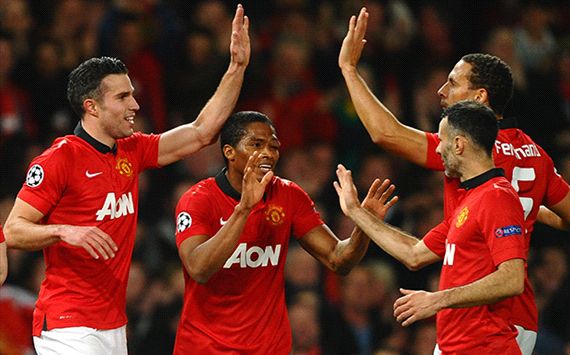 There was a lot of 'turning point' talk after Manchester United overcame a 2-0 deficit on Wednesday to see off Olympiakos and claim a place in the quarter-finals of the Champions League, and David Moyes' men have now earned their chance to prove such assertions to be correct.

The ex-Everton boss has been pilloried by detractors following the Red Devils' fall from grace in the Premier League this season, but he has largely had the golden touch in Europe. Their one significant blow came away to the Greeks in the last 16, but the second-leg performance was typical of United's big nights at Old Trafford over the past 20 years.

However, their league form and general drop in standards from previous years cannot be overlooked, and despite the nature of the turnaround on Wednesday, they could not have had a worse assignment in the last eight than Bayern. Few will back Moyes' side to progress against the German giants.