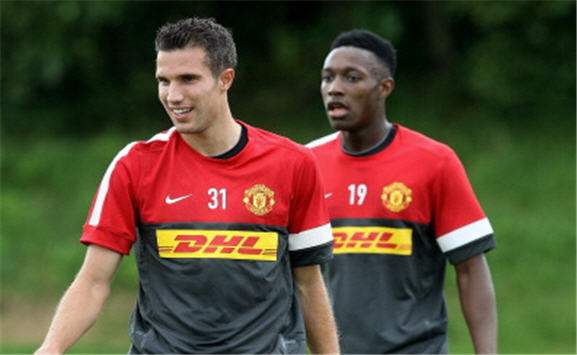 Robin van Persie with Danny Welbeck- Manchester United training – Carrington, Getty
Danny Welbeck has insisted that Manchester United must stay focused as they attempt to maintain their seven-point advantage over second-placed rivals and neighbours Manchester City.
The two clubs appear to have broken away from the rest of the division, but following last season's dramatic end to the Premier League campaign, Welbeck has stressed the need to keep the gap from Roberto Mancini's side as wide as possible.
"Our main focus is ourselves and we're not looking at anybody else," he told United official website.
"Getting three points is the main thing and we're not looking for any other results. Obviously, City could shorten the gap and it is key that we maintain our seven-point lead.
"Every game we play in the league is important and the main thing is to go out and get the three points. We can't watch other teams and see how they are doing. We have to look after ourselves."
Even though Robin van Persie's arrival at Manchester United has led to increased competition among the strikers at Old Trafford, Welbeck has welcomed the Dutchman to the club and emphasised the former Arsenal skipper's quality and lethal marksmanship.
"Robin is a world-class striker and it's great to be playing alongside him," Welbeck explained. "He is deadly in front of goal, but it's not just his goal scoring that he's added to the team.
"It's his all-round play. He is bringing others into the play very well and he's holding the ball up as well. As you watch him closer every single day you get to know how good a player he is. You can learn from Robin, but also other great players in the whole of the Manchester United squad.
"Every player, when given the chance, can give 100 per cent and that is the main thing, we are all together as a team and are looking out for each other, rooting for one another. Once we get out there, we have got a strong team no matter who is out there. The main thing is to get three points.
"Whoever is picked in the starting 11, it is going to be a strong side and you have just got to be grateful and happy that once you are on the pitch you are playing with other great players, which is going to make it easier for you."
Manchester United travel to White Hart Lane, where they face Andre Villas-Boas' Tottenham side on Sunday at 16:00.