ANALYSIS
By Rupert Fryer
Veteran Lazio striker Miroslav Klose has the best shot-to-goal ratio in Europe's five major leagues this season, a Goal.com study can reveal.
Goal.com took the current five top scorers from the Premier League, La Liga, Serie A, Ligue 1 and the Bundesliga, and compared the number of shots they have had in their respective domestic leagues to the number of times they have found the back of the net.
Klose was the most efficient, converting 10 goals from his 31 shots at a success rate of 32.26 per cent. Nice forward Dario Cvitanich comes in second with the same number of goals arriving from just one more effort on goal, while Atletico Madrid's Radamel Falcao takes third place with 17 goals from 58 attempts.
Lionel Messi was only down in fourth, and it's no huge surprise to find Cristiano Ronaldo way behind with a success rate of just 11.59%. Neither is it much of a shock to discover that the Portugal international tops the charts for shots taken, having had an unrivalled 138 attempts in his 18 La Liga outings thus far.
Just behind him in that regard is Liverpool's Luis Suarez, who took 123 shots to arrive at his impressive tally of 15 Premier League goals.
The Premier League's top scorer Robin van Persie failed to make the Top 10, with a strike-rate of 21.62%, as did the Bundesliga's top marksmen sharpshooter Stefan Kiessling on 19.35%.
The two most impressive in terms of goals scored and shot conversion rate are Falcao and Messi. Both have converted just under a third of their respective efforts at goal, and both are responsible, on average, for around a quarter of their team's shots per game.
Cristiano Ronaldo's low conversion rate must be viewed in context, however. Real Madrid average 20 shots per game, nearly eight of which are attempted by Ronaldo – which means, on average, he may be wasting one in ten of almost half of Real Madrid's total shots per game.
While it may at first appear a damning indictment, one must also consider the fact that los Blancos' shots per game tally of 20 – almost five more than Rayo Vallecano who sit second in that chart in La Liga – would not nearly be so high in the first place had it not been for the Portuguese.
With an average of 57.1% possession this term, Real Madrid dominate territory in the majority of matches which they play, and so Ronaldo can comfortably utilise his ability to shoot from range, safe in the knowledge that should he miss, both his team and he himself will find themselves with another opportunity shortly thereafter.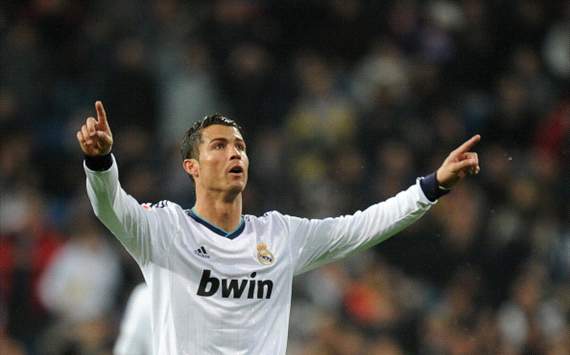 Prolific | Ronaldo's wayward shooting has not slowed his strike rate
Should, for example, Mainz's Adam Szalai shoot anywhere near as often, he would be likely be dropped for wasting possession for a side that averages just 48% of the play. Ronaldo can, however, point to the fact that he has provided more than a third of Madrid's 45 league goals this season.
Luis Suarez's total of 123 shots is in no small part due to his task of having to create his own opportunities this season. Only Hatem Ben Arfa (in just 13 appearances compared to Suarez' 20) has bettered the Uruguayan's average of 3.2 successful dribbles per game, and so it is somewhat inevitable that he should find himself high up on the list of total attempts on goal. With little support around him, Suarez is forced to fend for himself, and having worked so hard to create his chance, the Liverpool man often keeps it for himself.
In attempting to draw conclusions from the findings, one must accept that the raw data doesn't take a number of scenarios into consideration. Klose's lack of mobility in the twilight of his career means he joins in the general passage of play much less frequently, suggesting he is likely shooting from better positions.
Similarly, Cvitanich appears to be attempting to convert easier chances. A supporting striker throughout most of his career, should a team-mate be in a superior position, the former Boca Juniors man will usually pass to a colleague. Indeed, the 28-year-old has averaged just 2.1 shots per game this term, despite operating as an orthodox No.9 since arriving in France.
The position from which the selected subjects shoot may well be the most important variable to consider. As a Whoscored.com InfoGraphic illustrated earlier this week, just four of Cristiano Ronaldo's 22 goals in all competitions this campaign have arrived from outside the box.
And so despite his marvellous ability to strike from distance, restricting the frequency with which he fires from long range may well be key to increasing his side's efficiency in attack – though one must also bear in mind how many of his efforts on goal result indirectly in goalscoring opportunities for his side, albeit via rebounds or resulting corners.
So too must it be noted that we only considered the top five scorers in each of the five leagues for this study, as a smaller sample size will restrict anomalies. David Villa actually boasts a 50% strike-rate for Barcelona, scoring five goals from just 10 shots. Frankfurt's Stefan Aigner, meanwhile, has found the net with a third of his 18 shots this campaign.
We can go over and over the data, but one can draw few absolutes without going back and watching every minute of every game from which they were pulled. Some goals mean more than others, as do some victories. One player scoring exactly the same number of goals from the same amount of shots can be infinitely more impressive for one team than it is another; converting from six yards can, at times, be more difficult than scoring from 30.
Nevertheless, Klose's career speaks for itself and the fact that he has a better strike-rate this season than Messi and Falcao can only be considered as another superb achievement for the legendary German.
Follow Rupert Fryer on