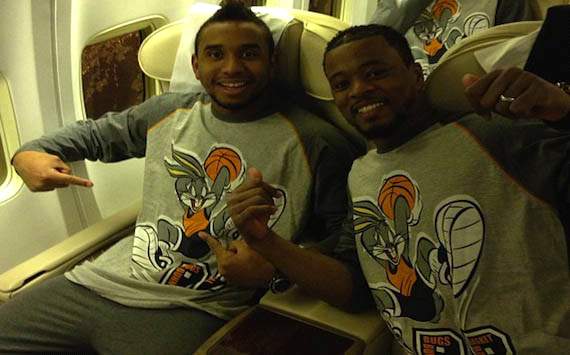 What's up, Doc? | Anderson & Patrice Evra pose in Bugs Bunny pyjamas

Anderson bounces around like Bugs Bunny playing basketball as his fellow stars sport matching pairs of Space Jam-themed pyjamas on Manchester United's long-haul flight on Sunday for much-needed warm-weather training in the sunny Middle East.
Landing on Monday morning renowned merkster Rio Ferdinand tweeted: "Just landed in Qatar….zero sleep on the plane!! Eyes feeling puffy!! *sunglasses where r u*!! 'This Sun better not try and play hide + seek with me, we haven't got long here so let's be having ya!!"
It was the likes of Anderson and Patrice Evra however who kept them awake on the flight to the $1.3billion Aspire Academy, where would-be footballers Get Ready to Jam with the stars through the Football Dreams project.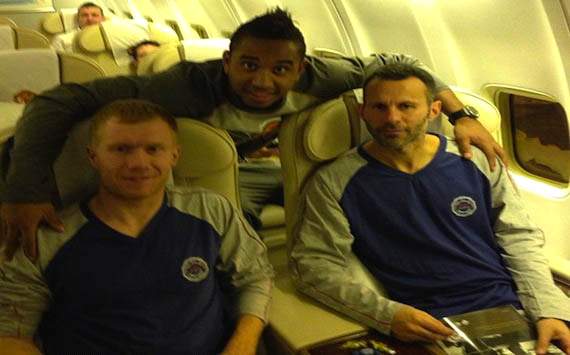 That's all folks! | Paul Scholes & Ryan Giggs keep their eveningwear simple
Elder statesmen Ryan Giggs and Paul Scholes look more inclined to a quiet night. Perhaps they spent the 7-hour flight dreaming of facing extra-terrestrials such as Lionel Messi and his fellow Barcelona MonStars.
That sounds like more of a nightmare, although the pair of Fergie's Fledglings would have been up there for the Premier League Dream Team called up for the climactic battle.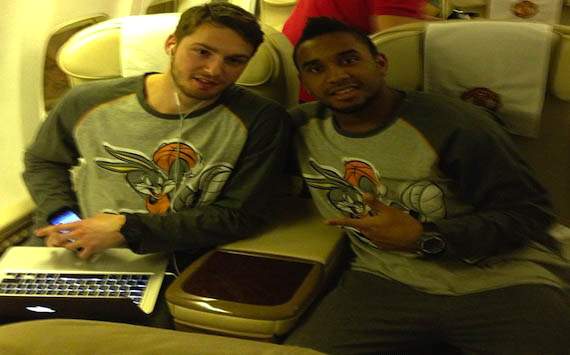 Trendsetters | Nick Powell & Anderson relax on their flight to Qatar
Nick Powell looks more interested in his laptop – he would have been just two-years-old when the Disney met NBA legend Michael Jordan in the classic movie.
Anderson, however, is there to tell him of what kids these days are dreaming as he waits for the chance to impart his characteristic energy on the pitch when his side touch down in the sun.