COMMENT
By Jay Jaffa
The familiar figure of Dimitar Berbatov will take to the Old Trafford pitch this Saturday as Manchester United host Fulham in the FA Cup. He is a little bit older, a little bit wiser and carrying a lower profile than six months ago but you rather get the feeling that he prefers it that way.
Berbatov was and still is one of the Premier League's genuine cult heroes. A smooth, stylish striker, with a soft touch, a contemptuous attitude and a mantra of doing things the 'right' way – "playing with beauty and grace", in his own words.
While the mainstream media derided him in his early years for sulking or being lazy, the man on the street applauded his non-conformist audacity to play the game at his pace, in his style and with his signature adorning every flick and trick. In short, he is the player who every office worker, season ticket holder, bus driver would love to be.
As with every cult figure (Mario Balotelli is a less effective example) there are stories that garnish the character of the man in question. Stories that add to the aura that they exude, an aura that keeps the purists coming back for more.
BERBATOV IN QUOTES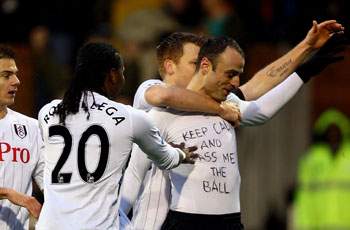 "Berbatov is a fantastic striker, he's been one of the best for many years now. It's a pleasure to play alongside him"
– Fulham team-mate Hugo Rodallega
"He seems to pluck everything out of the sky, everything seems to die on his toe. He's a class act"
– Newcastle boss Alan Pardew
"I don't think Dimitar was a failure here … he is a very talented player"
– Man Utd manager Sir Alex Ferguson
"I left Manchester United with my head held very high. I gave 100 per cent and no one could doubt my performances"
– Berbatov himself
He is a known smoker – a dying breed in the professional game – and has revealed that he learnt English by watching the 'Godfather' trilogy on repeat. Voted Bulgarian Man of the Year in 2009, the quiet, introverted forward is cool. Not in an overblown, James Hunt, 'sex, drugs, and rock and roll' style but, in a lovable manner that simply adds to the image of him as a laid-back, indulgent star.
The £30 million that it took to prise him from Tottenham in 2008 still has Berbatov sat as the ninth most expensive British transfer of all time and initially stunted his ascension after two fantastic years in north London. Six goals in 17 games were the grand sum of his integration into a United side who would go on to make the Champions League final but goals never were his sustenance.
It is the foreplay that seems to satisfy the forward, as he explained three years ago: "I read a book recently and the book started saying unless you have beauty and grace, you are powerless to win a heart. I like to play like that, with beauty and grace. I like to do stuff like that."
And that has been his calling card for the six years of entertainment that he has brought to the Premier League. It is why fans love him. "I always tend to think my goals are beautiful goals," he said during his time at United.
That is not to say he was universally loved, though. There were elements to his play that frustrated and infuriated observers and those around him. They still do at Craven Cottage. Why volley a chance at goal when there is the space to take a touch and make sure of the finish, they wonder.
He has the dead-eye bluntness required to be a prolific goalscorer but most certainly flits between that and entertainment mode when around the penalty box.
Despite those inconsistencies, he is likely to receive a generous ovation on Saturday. After all, he contributed to two Premier League title-winning seasons, even picking up the golden boot in 2010-11 for his 21 league goals. He scored the first hat-trick against Liverpool in 64 years and bagged five in a 7-1 win over Blackburn during a campaign in which he was operating at the peak of his powers.
The following year marked the end of Berbatov's Old Trafford career, though, as Sir Alex Ferguson chose to pursue a different style based on pace and quick turnovers. For the counterattacking system that the Scot planned, there was no room for the torpid striker. The cult of Berbatov was tranquilised as he spent 2011-12 in a state of near-retirement, featuring just six times in the second half of the season.
Eric Cantona, the most comparable and adulated figure to have played for United in the modern era, did end his United association by retiring in 1997 after five years of semi-prolific goalscoring. The Frenchman had a career littered with disciplinary problems, though, and none more high profile or public as the reprehensible kick landed on an abusive Crystal Palace fan.
The irony was seeing Cantona's star rise in spite of his actions and particularly so during his enforced period of absence. He was idolised by many, had an extraordinary gift for the game and played with a rock-star swagger that the Premier League had never seen before.
When Cantona flicked the collar of his shirt up, a million amateur footballers copied him. He was cool, and transcended mere football. Berbatov may have achieved less at Old Trafford but the pair are cut from a similar piece of cloth.
The difference, though, was that Cantona was universally loved by United supporters.
Now at Fulham, under Martin Jol, the manager who declared that he "would rather die" than sell the Bulgarian when at Tottenham, Berbatov has the chance to give his career a rightful send-off. He has not reached the twilight of his footballing life – you get the feeling that he will decide when that is, not us – but is pulling the weight of players so far below his ability that it is difficult not to feel sympathy for the Steve Sidwells of this world.
He has blazed his own trail and will not have it any other way. United may have outgrown a player like Berbatov, a luxurious standalone entity, but Fulham provide the perfect platform for him to have things his own way. Just like Matthew Le Tissier did at Southampton, David Ginola did at Tottenham and Georgi Kinkladze did at Manchester City.
After all, Berbatov insists: "I am just myself. I don't want to be compared with anybody else … especially a legend like Cantona."
Follow Jay Jaffa on