Sir Alex Ferguson's team gained yet more ground on defending champions Manchester City by seeing off Everton following Roberto Mancini's side's defeat at Southampton
DEBATE
Manchester United took another step towards reclaiming the Premier League title by gaining ground on rivals Manchester City for the third time in less than two weeks.
The defending champions suffered a shock defeat to Southampton having been held to draws by Liverpool and QPR in their previous two matches.
THE VIEW FROM OLD TRAFFORD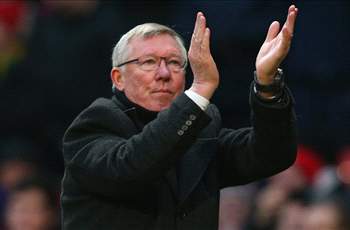 'UNITED TOOK A HUGE STEP TOWARD THE TITLE'

Another game, another win for Manchester United.

The Red Devils took a huge step toward securing the Premier League title with a comfortable win against Everton at Old Trafford on Sunday afternoon, arguably without getting out of first gear.

How often has it been said that the Red Devils have won without playing at their best this season?

This is a team which knows exactly what needs to be done in each fixture and then sets about doing it – a fact which is testament to their experience and superior quality in comparison to the rest of the league.

David Lynch | Old Trafford

United's title charge rolled on, meanwhile, as they made light work of a potentially tricky fixture by beating Everton 2-0 at Old Trafford.
The 19-times top flight victors' latest victory followed narrow triumphs over Fulham and Southampton over what may be looked back on as the defining period of the 2012-13 season.
Roberto Mancini admitted that his side have no more than a "10 per cent chance" of retaining the title following the upset at St Mary's and hit out at what he labelled their "worst game in the last two or three years".
Joe Hart, the goalkeeper that proved one of the lynchpins of their first championship in the Sheikh Mansour-era in 2011-12, was singled out for criticism after his costly error led to Southampton's second goal.
United, who face Real Madrid in the Champions League on Wednesday, were led to victory once more by Robin van Persie, who netted his 19th league goal of the season.
That followed Ryan Giggs' opener in the first half as United move 12 points clear of City at the top of the table.
City overcame a deficit of eight points in just six matches to claim the title last season but United have put even more distance between themselves and their Manchester rivals this time around.
Can anyone stop the momentum of United's title charge? Or will Ferguson's team prove irresistible in their quest to land their 20th English crown?
Are City capable of climbing the mountain they face for the second season running, or will United's lead prove too much this time around?
Could United's involvement in other competitions, such as the Champions League, potentially derail their league campaign if the likes of Van Persie begin to feel the strain of a heavy fixture list?
HAVE YOUR SAY
Can anyone stop United? Have your say by posting your comments below and getting in touch with us via Facebook and Twitter.