The playmaker has put his Manchester United troubles behind him as he focuses on Japan's World Cup campaign, but he remains keen to move back to Borussia Dortmund
Shinji Kagawa is currently focusing all his energy on representing Japan at the World Cup but, make no mistake, he is set on leaving Manchester United.
Having moved from Borussia Dortmund to Old Trafford two summers ago amid much excitement, it is fair to say Kagawa's club career has officially stalled.
If he has his way – and, it seems, if the club have theirs – he will be back at the Westfalenstadion next season.
While straight swap deals almost never happen in football, Kagawa will most likely be used as a bargaining chip by United in their attempts to sign centre-back Mats Hummels.
There's no doubt that Kagawa's presence in negotiations will help sweeten any deal, after all he is one of Jurgen Klopp's favourite players and was one of Dortmund's top performers throughout his time there.
Several clubs have made their interest known in recent months, but his camp have not held discussions with any suitors.
Should he get his desired move to his former club, he will not only return 'home' to Dortmund but also to the No.10 role he has barely occupied in his two seasons in England.
His first campaign was always going to be difficult, but even despite the transition from the Bundesliga and a couple of injuries his performances were promising. Sir Alex Ferguson insisted he would be "far better" the following year.
Under David Moyes, of course, that second season was more difficult than anybody could have ever foreseen.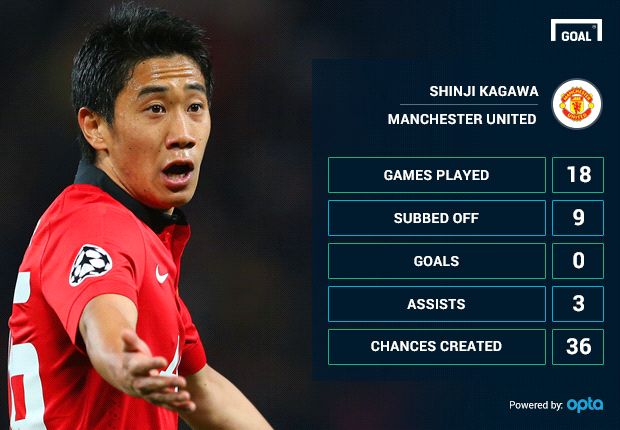 The Japan international was one of several new players, including Wilfried Zaha and Robin van Persie, to have been unsettled by the timing of Ferguson's retirement.
Barely any of the United squad had anything to shout about last season and Kagawa is one of several whose futures are up in the air. But unlike some of his older or more maligned team-mates, there is clearly a fine player waiting to burst out.
In his two seasons in Manchester, either under Ferguson or Moyes, he has barely had a run in his favoured position.
The Japan international maintained remarkable restraint during the more difficult months of United's terrible season under Moyes. He impressed coaches at Carrington with his attitude to training and kept his counsel despite being asked about his future all over the world. The closest he came to hitting out was when an interview given in Japanese was severely misquoted by the mainstream British press.
He has, however, recently hinted at how much he struggled in the past few months: "I was able to stay motivated despite the year I had because I had the World Cup to look forward to."
Whether new manager Louis van Gaal will have a place for Kagawa in his United team remains to be seen. Much has been made of the Dutchman's 4-3-3 system in recent weeks, and Kagawa would certainly fit into the more advanced of the three midfield roles.
Of course, the Dutch boss may feel duty-bound to accommodate Wayne Rooney in the No.10 role, but that is a whole other story best saved for another day.
What is certain is that Kagawa will only stay at Old Trafford if he is promised a leading role in Van Gaal's new United. If not, he will more than likely be back in Germany, even on a vastly reduced wage.
But for now he has put all of those issues out of his mind and will go into the World Cup firmly concentrated on helping Japan get out of a competitive group alongside Colombia, Greece and the Ivory Coast.
"I'm not using the World Cup as a place to showcase myself for Van Gaal. We've known for some time it was going to be him. We've got the World Cup first, so I'll deal with all that after this is over."
Follow Sam Lee on