COMMENT: In guiding the Oranje to the World Cup quarter-finals from the brink of elimination, the coach has showcased a ruthless pragmatism so often lacking under David Moyes

By Rich Jolly
Manchester United have enjoyed 'Fergie Time', when they invariably scored late goals, and endured 'Moyesy Time', when they kept on conceding in the closing stages.
Now they should savour 'Louis Time', even though they have to wait for it to start.
They were a few minutes away from welcoming their next manager to Manchester. Then, in the sort of comeback that Sir Alex Ferguson trademarked, Louis van Gaal's Netherlands scored twice to eliminate Mexico and clinch a place in the World Cup quarter-finals.
So Van Gaal may spend another fortnight in Brazil. It is just as well he claims he doesn't need a holiday before starting life at Old Trafford. It hints at the hunger of a man who discovered international management is a lucrative form of semi-retirement and didn't like it. He wants this sort of adrenaline rush on a regular basis.
United want this sort of managerial Midas touch. There has been so much to encourage Van Gaal's new employers. In the group games, the Dutch exuded quality. They were less classy against Mexico, but United should be buoyed by their fighting spirit, by the 62-year-old's rapid rethink – implemented after a 'cooling break' – and by his inspired substitutions.
It wasn't simply the fact that, for the third successive game, a Dutch replacement struck. It was the question of who went off. With the Netherlands trailing, Robin van Persie was removed. He wasn't injured, either. It was purely tactical.
The sacked David Moyes seemed reluctant to take off either the Dutchman or Wayne Rooney last season. The ruthless Van Gaal has a closer rapport with Van Persie but has long projected the image of a manager who is unafraid of big-name players.
Klaas-Jan Huntelaar, on for Van Persie, teed up Wesley Sneijder, a more logical candidate to come off, for the thunderbolt of an equaliser and then the substitute striker scored the winner. His gamble was rewarded, his insight illustrated, his boldness brilliant.
The World Cup has revealed he possesses the decisiveness "dithering Davie" Moyes lacked. Van Gaal is a manager who backs his own judgment and is unafraid to make unorthodox decisions.
Moyes' tactics never changed from a 4-4-1-1 that he often, usually unconvincingly, claimed was actually 4-2-3-1. The resourceful Van Gaal recalibrated Holland from 4-3-3 to 5-3-2 just before the tournament. One-nil down, he changed formation.
Van Gaal has shown a pragmatic willingness to make the best of what he has. He has altered his gameplan according to opponents and situation, playing counter-attacking football against Chile and Spain and going direct against Mexico.
It certainly wasn't total football. The Netherlands haven't played through the midfield this World Cup; they have gone over it. In the process, Van Gaal has camouflaged weaknesses; United's were highlighted last season. Their midfield malaise was all too apparent.
Van Gaal has taken steps to remedy that, signing Ander Herrera in the first of what will probably be two central midfield additions. Yet if injuries occur or newcomers struggle, Marouane Fellaini-style, to fit in, then it falls to the manager to obscure their failings. Van Gaal is doing that.
Arjen Robben, Van Persie and Sneijder apart, this Dutch team is not the most talented in the tournament. Van Gaal's work with limited players should prepare him for many of the mediocrities he inherits. When Antonio Valencia, fresh from back-to-back poor campaigns, signed a new deal, perhaps it was a sign that Van Gaal identified an eager runner who will do his bidding.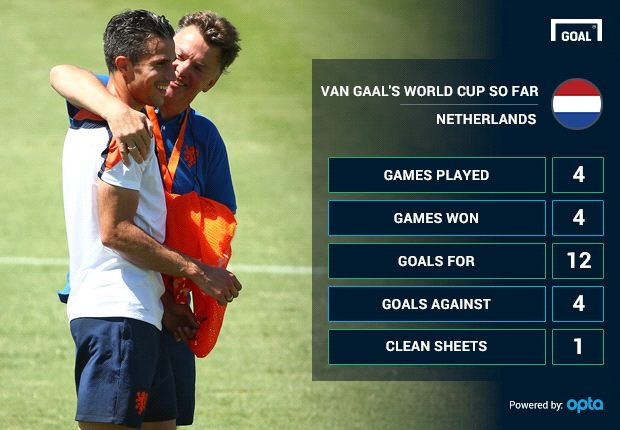 He has one in the Dutch camp. Dirk Kuyt has been reinvented as a wing-back. Van Gaal has picked players out of position and profited. He has forged a unit that is greater than the sum of its parts whereas last season United, with their legion of underachievers, were the opposite.
There are twin elements to his success: turning the lesser lights into an effective unit and making the superstars shine. Robben has never been as potent in a Dutch shirt, Van Persie never as prolific. The latter is most significant.
He has relished the responsibility he has been given, captaining a team with a sprinkling of younger players. Van Gaal's faith in youth should encourage James Wilson, Tom Lawrence, Michael Keane and, of course, Adnan Januzaj and Luke Shaw.
There is a recognition it has to be a time for new beginnings at Old Trafford. The Netherlands fell on hard times in Euro 2012, just as United did last season. Now Van Gaal has proof he has instigated a revival.
United had a wretched big-match record last season, when they won one of 14 league games against the top eight. In contrast, the Dutch have beaten Spain, Chile and now Mexico. They have done so in a way to give them optimism that club, like country, will be transformed by Van Gaal.