The Bilbao-born playmaker is a natural heir to Paul Scholes, blending defensive bite with craft and invention on the ball, and is the perfect midfielder for Louis van Gaal

COMMENT
By Ewan Roberts
Barely a fortnight after Chelsea tried to upstage the World Cup curtain-raiser by announcing the signing of Cesc Fabregas, title rivals Manchester United have now recruited their own talented, big-money, Spanish midfielder. There is far less fanfare accompanying Ander Herrera, though, and many are already wondering why United opted to sign the Athletic Bilbao man ahead of his more experienced counterpart.
The dethroned Premier League champions tried to tempt Fabregas to Old Trafford last summer – still with a title to defend back then – but the Catalan club were unwilling to allow the former Arsenal skipper to leave.
He paid back that show of faith – only one player, Angel Di Maria, recorded more assists in Europe's top five leagues last term than Fabregas – though his more prominent role under beleaguered (and now axed) boss Gerardo Martino began to turn him into something of a pariah for the club's jarring change in aesthetic and a rare trophyless campaign, and has sinced seen him become the new regime's most prominent casualty.
Yet, rather than return for a player with a medal-laden career at the peak of his ability, United ignored Fabregas, though available, and spent €36 million on a player who has fewer career goals than his compatriot has managed in a single season and who has yet to make a senior appearance for Spain – though that is no great slight given the plethora of talent at Vicente del Bosque's fingertips.
There is a sense that United have passed on a leading man and signed the understudy instead, rejecting an established, world-class player in favour of one that exudes promise and potential rather than proven talent.
But, as unquestionably brilliant as Fabregas is, he is not the man United – and, more specifically, Louis van Gaal – crave. His time as a disciplined, central midfielder is a distant memory, having resided in an advanced role since Arsene Wenger positioned the Masia graduate behind a striker in his last years at Arsenal, where he scored 15 Premier League goals in 2009-10.
Fabregas has remained a much more forward-thinking player ever since, even leading the line as a false No.9 for both club, Barca, and country, and is likely to remain in the hole at Chelsea.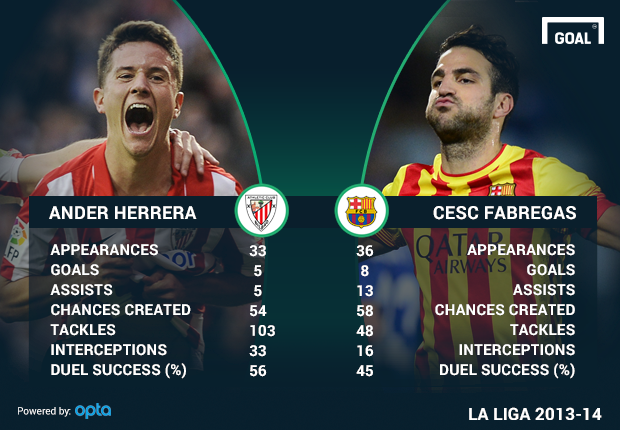 United, though, so well stocked in attacking positions already, hardly need a player of Fabregas' ilk. What they require – and have done ever since Paul Scholes hung up his boots – is a deeper presence; an energetic link between the defence and the forward line, someone who is cultured on the ball and a grafter off it. A player to assist the assister, rather than another cook in an already crowded kitchen. That player is Herrera.
The 24-year-old is a swirl of energy, harassing and harrying with an enthusiasm and determination that was cultivated during Marcelo Bielsa's stint in charge at San Mames. The intensity, drive and work-rate of the Athletic team that sent United crashing out of the Europa League two years ago is still embodied in Herrera.
Even after the Argentine coach's departure, his one-time protege retains much the same style, while further nuances have been added to his game under Ernesto Valverde.
Last season, Herrera averaged over twice as many tackles as Fabregas, attempted and completed more dribbles, drew more fouls and chipped in with five goals and as many assists. He is the quintessential all-rounder, a player capable of finally restoring the dynamism United have been starved of for far too long.
It is testament to how dangerous his sniping runs, quick feet and killer balls are that only four players were fouled more often in La Liga last season, and only 15 across Europe's top five leagues. He is a player that other teams know they must stop, and by any means necessary.
MIDFIELD MAESTRO | Herrera played the third-most passes and created the second-most chances amongst the entire Athletic Bilbao squad last season
He also fits the mould of midfielder that Van Gaal reveres above all others. The veteran coach singled out Kevin Strootman as one of Netherlands' three most important players in the build-up to the World Cup, though Roma's asking price and an ill-timed injury made a reunion at club level virtually impossible.
"He's the man with balance in midfield," professed Van Gaal. "He adapts quickly to what is going on and allows us to play with one defensive midfielder as he can play box-to-box with tremendous legs and lungs."
The same is true of Herrera, who offers tenacity and protection ahead of the back-line, athleticism, aggression and purpose in the midfield, and invention in the final third. He is all things to all occasions.
But, Fabregas, playing in a side whose possession can border on the prosaic at times, would have been an ill fit for what Van Gaal is looking to build – he was, after all, part of a Spain side on the receiving end of a 5-1 hammering against the Dutch in Salvador – and is not the ground-devouring, hard-running, fast-acting player such a frenetic system cherishes.
Spain exited the World Cup with the second highest average possession (61.4 per cent), still attached to their tiki-taka approach, while Holland rumble on in Brazil despite boasting just a 39.5% share of the ball – only Iran have recorded less possession. Van Gaal's side have played in flurries, transitioning defence into attack at lightning-fast pace; a vortex of vivacity that suits, and requires, a player of mirrored vigour in Herrera.
Both Spaniards are exceptional but wildly different players, despite their surface similarities, and only one is what Manchester United truly require. Old Trafford has been deprived of a midfield pulse in recent seasons, but now, in Herrera, they finally have a decisive, athletic, creative heartbeat. If the man from Bilbao can hit the ground running, he could be the driving force of Van Gaal's new era.
Follow Ewan Roberts on