The club did remarkably well under Sir Alex Ferguson to keep pace with Chelsea and Manchester City because they have been heading downhill ever since the Glazers took over
COLUMN
By Peter Staunton
All the talk this week has been about what David Moyes did wrong or what David Moyes should have done differently or why David Moyes was always the wrong man to coach Manchester United. That's all a smokescreen for what's really going on. Louis van Gaal or Diego Simeone or whoever is the next man to occupy the Old Trafford managerial desk will have to contend with the shackles put on the club by the Glazer family.
Around €850 million has been taken out of the club's coffers to service the debt which arose from the circumstance of the Glazer takeover. At the same time, transfer spending has been less than €486m. Not insignificant by any means but in that time, United lost and failed to replace Cristiano Ronaldo and Carlos Tevez. As like-for-like replacements went, Antonio Valencia and Michael Owen were brought in. That is corner cutting.
Three of the five most expensive signings in the history of United were made before the 2005 takeover of the club by the Glazers – Rio Ferdinand, Wayne Rooney and Juan Veron. Since then, despite Sir Alex Ferguson's assertions to the contrary, United have been unable or unwilling to keep up with rivals in the transfer market.
Last summer, players turned United down in their droves, from Thiago Alcantara to Ander Herrera to Sami Khedira to Cesc Fabregas. They are for one reason or another no longer the top draws in the division with Chelsea and Manchester City paying the best and Arsenal and Liverpool now offering decent wages as well as competition on the field.
By the latest estimates, United have the third-highest wage bill in the division behind Chelsea and Manchester City – the best-paying sports team on the planet. The general rule is that the team which pays the most money finishes highest up the table. Although Liverpool are doing their best to reverse that pattern this season, it must be said that relative to spending, United are not a million miles off where the projections would put them. Moyes's errors are responsible for points, no doubt, but changing the coach is not going to solve United's difficulties.
It could be said that his chief weaknesses were spending too much time working on United's defensive shape in training – something which is said to have exasperated the senior contingent – as well as failing to take insights from the club's previous coaching regime. He brought with him his Everton staff. Consequently, United's players were working for what they perceived to be inferior trainers. Failing to tap into the expertise of Paul Scholes didn't win him any favours either. His admissions that he 'over-trained' Robin van Persie, too, caused consternation especially in light of the Holland forward's injury-disrupted campaign.
But on the bright side, he maintained fine form in David de Gea, he achieved more with Shinji Kagawa than Ferguson did and blooded Adnan Januzaj; there are no guarantees that the Belgian wouldn't have done a Paul Pogba and ditched Old Trafford without significant minutes in the first team.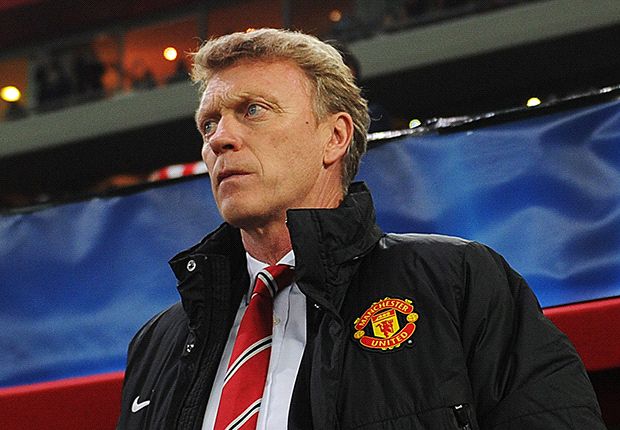 UNITED'S FALL GUY | Moyes was handed control of a club whose decline was disguised by his predecessor
Alex Ferguson was a dream owner for the Glazers. He worked within the financial parameters they set him. He was such a good manager that he probably underestimated his own abilities in the end. Those abilities include being able to extract maximum effort and output from his weakest side in at least a decade. No other manager in the world could have done what Ferguson did with this United squad and that is something that the Glazers themselves foresaw in a 2010 bond prospectus.
"We are highly dependent on … our management … including Sir Alex Ferguson. Any successor to our manager may not be as successful as he has been."
What Ferguson left in his wake is a creaking institution. Old Trafford these days is a stately home compared to the ultra-modern Etihad down the road. Ferguson obscured many of the United cracks by his very presence – cracks that were permitted to form under the Glazer's watch. Senior players like Rio Ferdinand undermined Moyes in media – inconceivable under the old manager. Without Ferguson, United have to adapt to very new circumstances. Ferguson himself thought it would be simply a case of hand-picking a successor and letting him get on with it. It would be interesting to read if Moyes actually interviewed for the job. Such an appointment in any other industry would be inconceivable – a manager picking his own successor.
In one sense United are now moving with the times. Edward Woodward has delivered plenty of new sponsorship deals this season to maximise United's commercial revenue. Well, to be frank, they need that at the moment because Champions League prizes are going to be beyond them for a long time to come. The only trouble is that football fans can be fickle. If United are no longer top dogs, their casual support will go elsewhere. That is the path taken by some of the core support too who, since the Glazer takeover, have seen their ticket prices rise exponentially and who have set up their own club in the shape of FC United of Manchester.
The Glazers are not benefactors. They do not love United. They are not running the club to be successful on a sporting level. They want profit. United's New York Stock Exchange flotation in 2012 earned them around €91m and added plenty more to the value of United. Any potential Red Knight can forget about buying the club. The Glazers would only sell for a sum in the billions. Even Class of '92 graduate David Beckham would baulk at that.
So United are left now in a desperate situation. The academy is malfunctioning – there doesn't seem to be a Class of '92 on the horizon. The first team is stocked with players in their 30s who are a burden. Players like Ferdinand are past their best but no suitable replacements are keeping the veterans on their toes.
The Glazer takeover will go down as the single most significant event in the history of Manchester United. It was the moment they surrendered the gains they built up over the course of the previous 12 years of Ferguson's management – at a time when Chelsea were strengthening and when City's billions were on their way.
Moods follow results in football and United are in a vicious cycle. The mood won't improve unless the results do but the infrastructure is not there now for United to be a contending team. The Moyes sacking, typically under the Glazers, was botched – like his appointment in the first place.
Players allegedly knew before he did and the news was subsequently leaked to briefed journalists. He may have been sacked the day after Champions League qualification was definitively ruled out but there was more to it than that. It would have been a tough sell to motivate fans to line up this summer to renew their season tickets with Moyes in charge. The money continues to flow out of Manchester United as quickly as it flows in. That seems to be how the Glazers like it.