Where to start, where to start? Well, clearly, it is the fallout from Eden Hazard's little dig to the ribs of Swansea ball boy Charlie Morgan, who has now accumulated a small army of Twitter followers. Quite a large army, actually.

Meanwhile, the transfer rumour mill has been churning, with players signing new contracts and others falsely claiming moves via Twitter. Surely not? Surely so in the Word on the Tweet…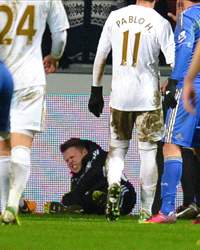 "17 year old ball boy….is that a wind up!!? Is being a ball boy now a career move??"
Rio Ferdinand sets us off with a question on the whole incident. Well, Rio, Morgan had been drafted in to help when a colleague was stuck due to snow. So there!
"Hazard only crime is he hasn't kicked him hard enough…"
Joey Barton weighs in with his opinion in characteristically blunt form.
"When we were winning at wolves I used to tell the ball boys to slow it down & the opposite when we were losing. Advantage of being at home!"
Former Wolves goakeeper Matt Murray tells people what really goes on with the ball boys.
"Thanks everyone for the messages Gracies a tots pels missatges Gracias a todos por los mensajes WEMBLEY!!!"
In the other major point of the night at the Liberty Stadium, Swansea qualified for the final of the Capital One Cup, as Angel Rangel points out. I think.
"Just woke up… But am I still dreaming??? #Wembley"
Message to Wayne Routledge: I can confirm you are not dreaming. I can also confirm that the Swans are on their way to Wembley..
"Contract sorted…don't have time to enjoy as I need to go back to hard work ha ha ha."
Sylvain Distin signs up for more time at Goodison Park, but reveals that he doesn't have long to celebrate with Everton still pushing for a Champions League place.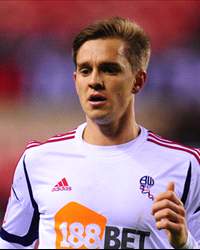 "In a car by myself, Free style rapping on the way to training, yeah my flows are sickkkkk #notreally #whoami"
Meanwhile, it seems there's a bit of a personality disorder developing in the driver's seat of Stuart Holden's car. Who are you indeed, Stu?
"On my way to Newcastle, having medical then sign a 4 years contract. Thank you all for your support you've been outstanding !!!!"
Shocking transfer news coming out of left field! Reading winger Jimmy Kebe says he is joining Newcastle!
"Oups i thought if you're french and play football u just pop in to Newcastle and sign a contract. Not a chance of leaving #LoveReadingFc#"
What a scamp. Kebe states that the whole thing was just a joke. Perhaps he should spend a little less time joking, and a little more time trying to get Reading away from the relegation zone.