DEBATE
By Oliver Platt
Manchester United's irresistible attacking quartet has put the 19-times champions on course to match Chelsea's record Premier League points tally of 95 but Sir Alex Ferguson could be tempted into making further tweaks to his forward line in the close season.
Goal.com exclusively revealed on Tuesday that Atletico Madrid have targeted Mexico international Chicharito amid speculation surrounding the future of strike duo Falcao and Adrian Lopez.
Robert Lewandowski looks set to move from Borussia Dortmund to Old Trafford in the summer and for all the success United's illustrious collection of forwards have brought so far, surely even Ferguson would struggle to balance the competing ambitions of five full international strikers.
Robin van Persie has been such a success that he has already drawn favourable comparisons with club icon Eric Cantona, while Wayne Rooney remains his nation's finest front man. Danny Welbeck has progressed through the club's academy to earn a place in the first team and Chicharito has proved himself to be a model professional with a killer instinct that has got United out of jail on more than one occasion.
Something, though, may have to give. Goal.com examines the extent to which each player could come under threat in the coming months.
This one is straightforward. Van Persie is quickly establishing himself not only as United's premier striker – that much seems a given already – but as one of Ferguson's best signings in more than 26 years in charge.
The princely sum of €28.8 million would normally be considered a hefty fee for a 29-year-old but in a climate of high-profile failures, Van Persie represents good value. Some United fans have voiced concerns at the failure to address certain weaknesses under the ownership of the Glazer family and perhaps fear that Ferguson is adopting a Wengerite mantra of stubborn prudence, but he has retained his taste for a marquee purchase.
It hardly needs to be said that the Cantona comparisons are premature but certainly Van Persie's influence so far this season can be placed alongside that of the likes of Thierry Henry and Didier Drogba in their title-winning Arsenal and Chelsea teams.
Van Persie scooped player of the year honours in 2011-12 despite Arsenal's failure to compete for medals and this season, at his current pace, it is difficult to imagine him losing his grip on them. He will not be making another move any time soon.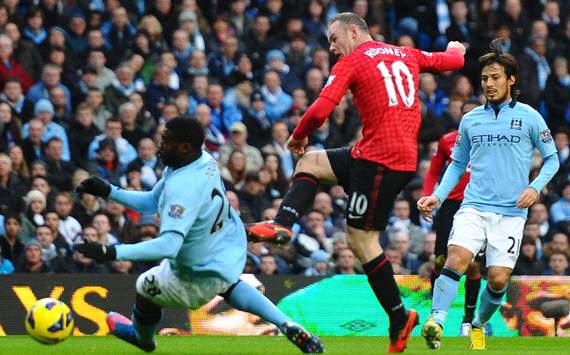 Rooney has not found goals and form difficult to come by as United's out-and-out centre forward but now he has a chance to shine in his favoured position. "It's hard when you're 5ft 10in and you're up against centre-halves who are 6ft 3in, but it's my second favourite position after playing off another striker," he has said of the lone striking role. There are few better to play off than Van Persie.
Rooney has not scored at the Dutchman's prolific rate from his more withdrawn berth but he has weighed in with more assists despite being limited to 14 league appearances due to injury. Only Juan Mata and Steven Gerrard are ahead of him in that regard, but only by one assist having both played more matches.
Most have been happy to forgive and forget but it is difficult to imagine that the relationship between Rooney and Ferguson was not in some way tainted by the 26-year-old's shock transfer request in October 2010.
For that reason it is perhaps no longer unthinkable that Rooney could leave Old Trafford, but it would nevertheless be a shock of some magnitude to see him depart in the immediate future. He is the most creative of the club's forwards and clearly the most comfortable in the deeper-lying role.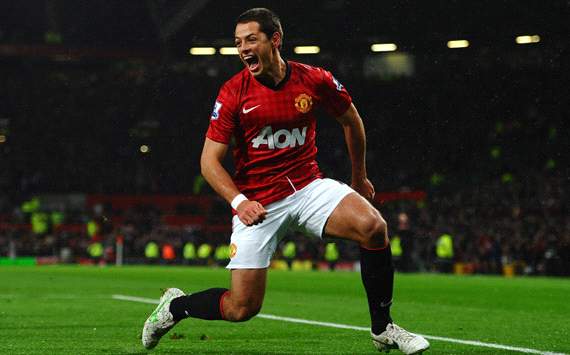 After a slower 2011-12 campaign, Javier Hernandez, or Chicharito, is back on track and well on his way to putting away 20 goals in a season for the second time in his three-year career so far in the north west.
Chicharito's value lies not simply in his tremendous goalscoring prowess but equally in his humble nature and willingness to wait for his chance in the starting XI. He is reminiscent of Ole Gunnar Solskjaer not only in his boyish appearance.
When juggling four strikers of such quality, that is invaluable. How long it will last is another matter. For all Chicharito has achieved in two-and-a-half years at Old Trafford, he could have more to give; it is difficult to see him being truly entrusted with the centre forward position at United in order to prove himself as a genuinely lethal No.9 in European football.
Chicharito has been linked with a move away from United, often to La Liga, before and Atletico, who could move Falcao and Adrian on as they did Fernando Torres and Sergio Aguero, might offer him the perfect chance. Ferguson would surely not begrudge him it.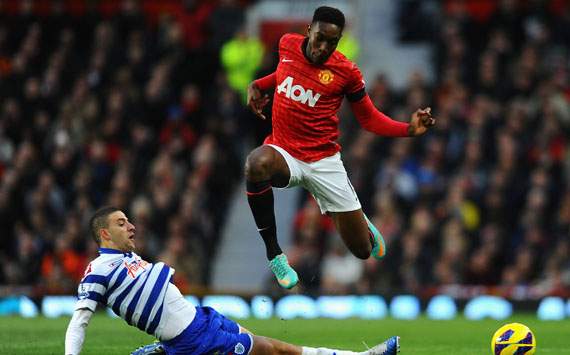 First team opportunities have been difficult to come by for Welbeck to the extent that he was linked with a loan switch to Reading earlier in January. Those rumours have since been shot down by Royals boss Brian McDermott, but they were indicative of the frustrating time the 22-year-old has had so far in 2012-13.
Welbeck is yet to establish himself as a truly prolific striker but he is quick, strong and technically gifted. He is also a highly-accomplished player off the ball for his age. But after notching a respectable 12 last season, the Longsight-born player's only goal in the current campaign came against Stoke back in October.
He has scored three times in his last three outings in a role of increasing prominence for England, but Van Persie has proved an immovable object at club level and Chicharito has become the recognised bench threat.
Ferguson would surely loath to allow an academy graduate of such ability leave the club so early in his career but he faces a challenge in integrating Welbeck to the benefit of the striker's continuing development, while Van Persie and Rooney dominate the picture.
Follow Oliver Platt on