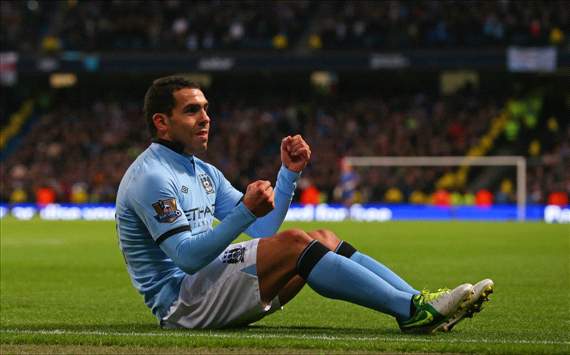 Carlos Tevez, Manchester City / Getty
Carlos Tevez thinks that Roberto Mancini's recent praise of Robin van Persie will only serve as added motivation for Manchester City's strikers.

The Premier League champions currently sit seven points behind neighbours Manchester United in the table, and the Italian recently lamented his attacking unit's lack of goals so far this season.
The club's defensive coach, Angelo Gregucci, also revealed this week that City are chasing a deal for Napoli forward Edinson Cavani, but Tevez insists this will only spur the current crop on.
"Those words were a motivation for the strikers and we know that we need to carry on fighting," Tevez told reporters.
City's front men have shared 10 goals between them in their last three games, with only Mario Balotelli failing to score in that run and, if that is sustained, Tevez sees no reason why City cannot catch their biggest rivals once again.
He added: "Last season United lost some games and we were back on track so we will just keep doing our job.
"That's the emotion of the Premier League. It is always a fight to the end and if United lose one game we'll be getting close to them. They will know that."
With only domestic trophies left to compete for, Tevez also sees the FA Cup as a chance for silverware this season and looks to City's 2011 success in the competition for inspiration.
"We want to keep fighting and I will try to help us compete on both fronts and win both," the Argentine explained.
"Our 2011 FA Cup win was a great achievement and very important because it was also the start of everything here – with us then winning the title the season after that."